Welcome to
St. Barbara Greek Orthodox Church
"Welcome one another, therefore, just as Christ has welcomed you, for the glory of God." - Romans 15:7
Through this web site, we are pleased to be able to introduce you to the same worship and fellowship as it is expressed in the life of our Church. If you are a steward of our parish, or are considering joining our community, these web pages will acquaint you with what our parish offers. We pray that you will enjoy learning more about the Orthodox Church and our parish and welcome you to join us in worship as we continue our Journey of Faith. We hope the information on this site will provide you with daily inspiration to follow the commandments of God as we all strive to seek salvation and live life in the Light of the Resurrection of Christ.
---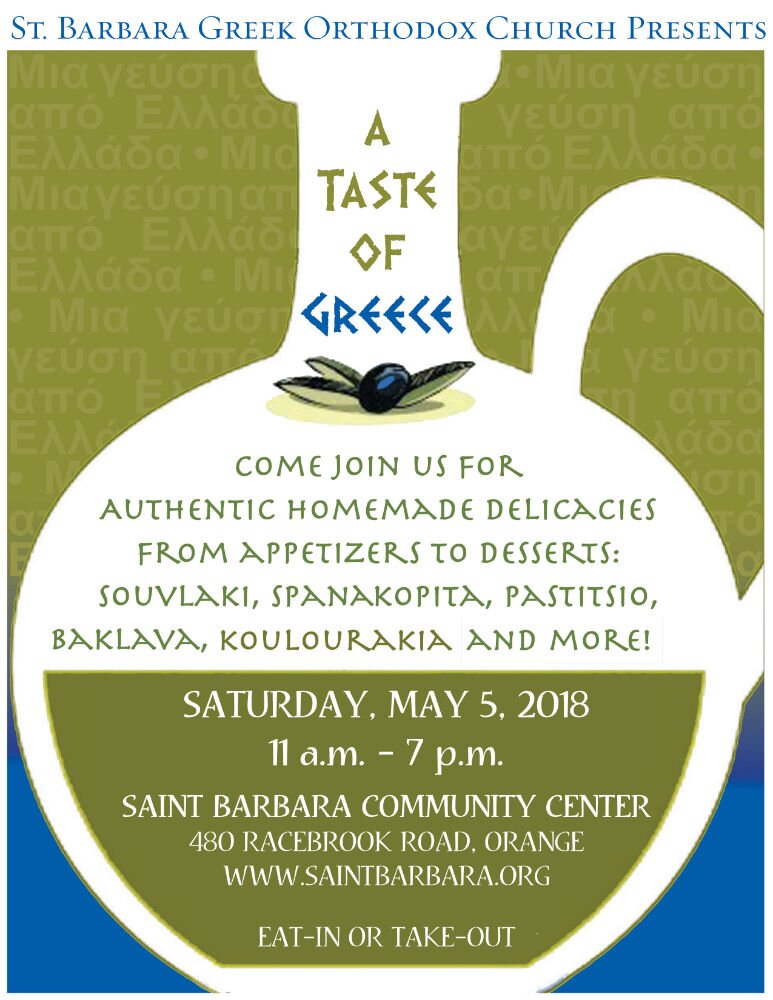 The Saint Barbara parish now offers a one-day mini-festival in the Spring on Saturday, May 5, 2018 from 11:00 a.m. - 7:00 p.m. Experience the wonderful Greek cuisine and pastries of our fabulous chefs!
Plan to join us and meet friends and family in Saint Barbara Social Hall to dine Greek style or take home some of your favorites!
---
Join us on Saturday, April 14, 2018 for a night on entertainment from 6 p.m. - 11 p.m. featuring Basile the Comedian. Appetizers and finger foods will be served along with a cash bar.
6 p.m. Cocktail Hour; 7 p.m. Basile Comedy Show; 8:30 p.m. Music & Dancing Individual tickets: $65 Table of 10: $600 Seating is limited. For more information click here.
---
Through the generosity of Saint Barbara parishioners a number of scholarships are available annually to college and graduate students from the Saint Barbara parish. Since 1990 several hundred scholarships have been awarded under the Saint Barbara and AHEPA scholarship program. Descriptions of the available scholarships can be seen by clicking on the link above. Completed applications must be returned to the Church Office by April 30, 2018. Applications are available by clicking here.
---
Order your Saint Barbara GOYA sweatshirts by Sunday, March 18, 2018. The classic design features an embroidered Saint Barbara GOYA logo on the left and the embroidered name of the GOYAn or parent on the right. The sweatshirt is a 50% cotton heavy duty and gray in color. Download the order form here.
---
Join Our Parish List Servers
Get updated on all the news and information about our parish by subscribing to our parish's email listservers here.
---
Online Stewardship
You can now make your 2017 Stewardship pledge online. Simply click here to go to our online pledge form and make your monthly stewardship pledge with your credit card.
---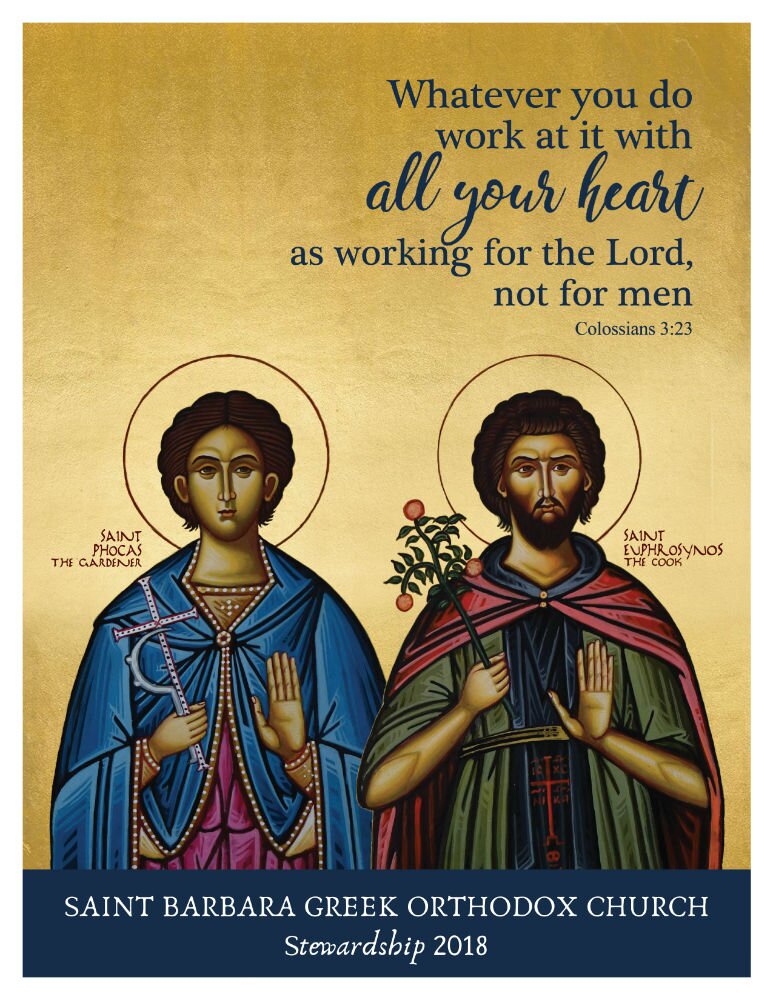 ---
Parish Publications:
---

---
Upcoming Events and Services
Ἀββάδες άναιρεθέντες ἐν τῆ Μονῆ τοῦ Ἁγίου Σάββα
Mar 20
Righteous Fathers slain at the Monastery of St. Savas
Mar 20
Adult Greek Language I
Mar 20 7 pm
ΙΧΘΥΣ Reading Group
Mar 20 7:30 pm
ΙΧΘΥΣ Reading Group
Mar 20 7:30 pm
Ἰάκωβος ὁ Ομολογητής
Mar 21
See more on our Calendar Page »
---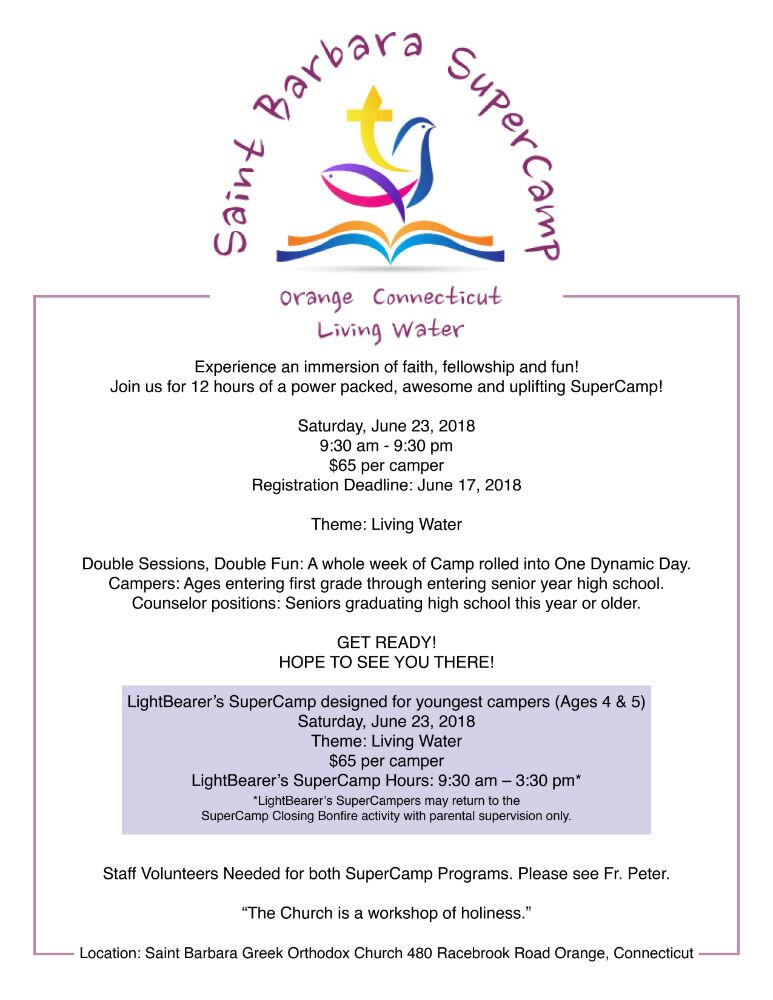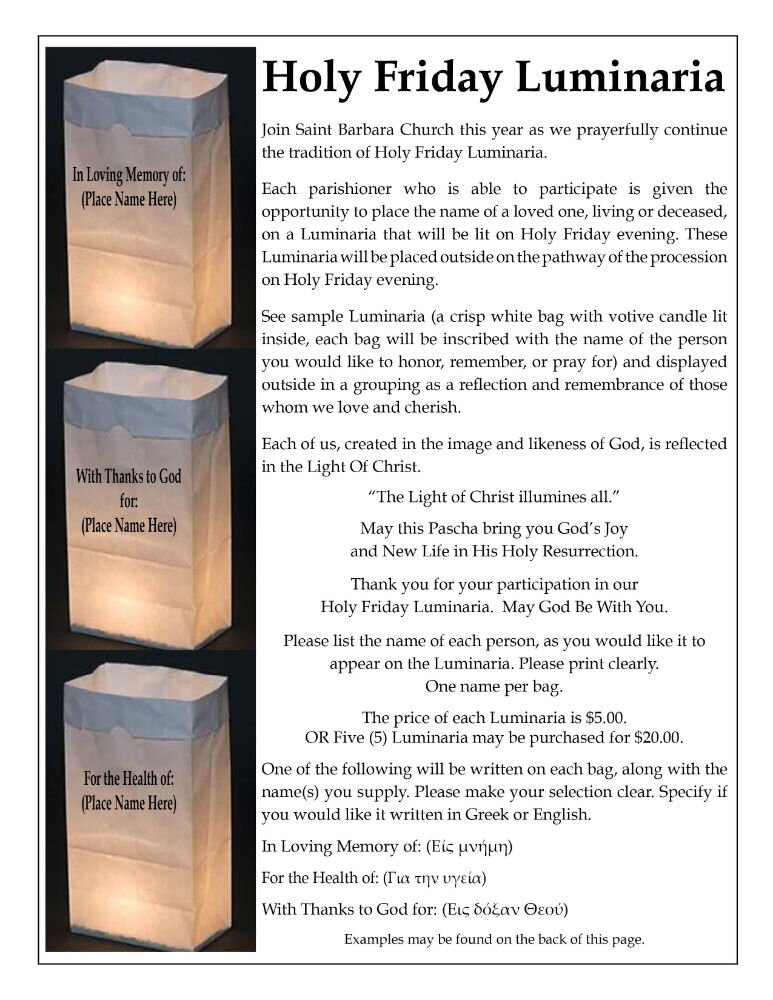 ---
Upcoming Events
Dinner Dance
Annual Ad Book
---
Registration Forms
Adult Greek School
Adult Basketball
---
Shop Online
Visit our Online Store for a huge selection of icons, Bibles, books, music, and more.




View our weekly parish bulletin
Visit us on Facebook