Welcome to
St. Barbara Greek Orthodox Church

"Welcome one another, therefore, just as Christ has welcomed you, for the glory of God." - Romans 15:7
Through this web site, we are pleased to be able to introduce you to the same worship and fellowship as it is expressed in the life of our Church. If you are a steward of our parish, or are considering joining our community, these web pages will acquaint you with what our parish offers. We pray that you will enjoy learning more about the Orthodox Church and our parish and welcome you to join us in worship as we continue our Journey of Faith. We hope the information on this site will provide you with daily inspiration to follow the commandments of God as we all strive to seek salvation and live life in the Light of the Resurrection of Christ.
---
Holy Week Schedule of Services
Click here to view the Holy Week Schedule of Services.
Click here to access an indepth explanation of the services of Great and Holy Week as celebrated in the Greek Orthodox Church. It covers all of the services, beginning with the Saturday of Lazarus and ending with the Feast of Pascha. It has been prepared in the hope of enhancing the Holy Week experience for all of God's faithful. Each day contains an explanation of the day's icon; scriptural references; festal or special hymns of the day; and an explanation of the themes of each service. Links for each day can be found in the navigation pane on the left. It is my prayer that these brief explanations help to make Holy Week come alive in our hearts as we prepare to receive our resurrected Lord on Pascha.
Click here to download the Holy Frinday Luminaria Form
---
For 36 years the Saint Barbara Greek Orthodox Church Community has opened its doors and delighted the senses of all who attend our annual ODYSSEY: A GREEK FESTIVAL with a feast of Greek cuisine. Now you don't have to wait for Labor Day weekend to indulge in the wonderful Greek cuisine of our fabulous chefs!
Our parish now offers a One-Day mini-festival in the Spring on Saturday, May 6, 2017 from 11:00 a.m. - 7:00 p.m. Plan to join us and meet friends and family in Saint Barbara Community Center to dine Greek style or take home some of your favorites!
---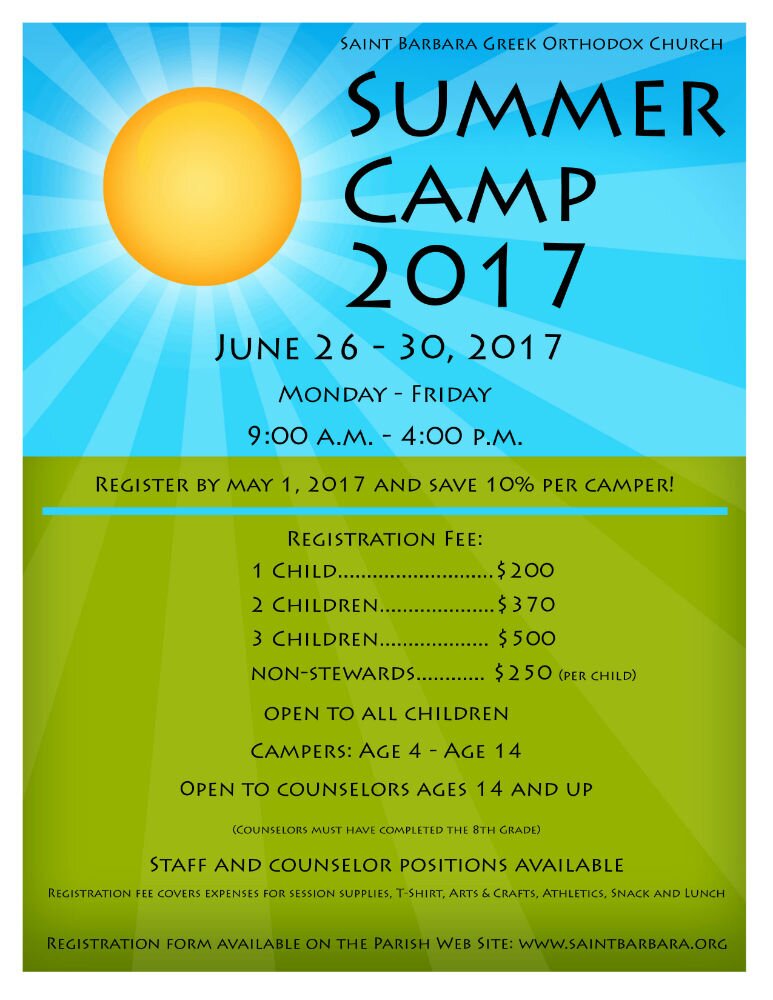 Saint Barbara Summer Camp 2017
The Saint Barbara Summer Day Camp will take place from Monday, June 26 - Friday, June 30, 2017 on the beautiful grounds of our parish. The Camp is open to all children ages 4- 14 and runs from 9:00 a.m. - 4:00 p.m.
Registration is now open. Register by May 1, 2017 and save 10% per camper. Click here to download the 2017 Registration Form.
Click here to view the 2016 Summer Camp Slide Show.
---
The 2017 Saint Barbara Scholarship Application is now available on our parish website. Click here to view the decriptions of the available scholarships and to dowload the application form. Scholarship deadline is April 30, 2017.
---
Join Our Parish List Servers
Get updated on all the news and information about our parish by subscribing to our parish's email listservers here.
---
Online Stewardship
You can now make your 2017 Stewardship pledge online. Simply click here to go to our online pledge form and make your monthly stewardship pledge with your credit card.
---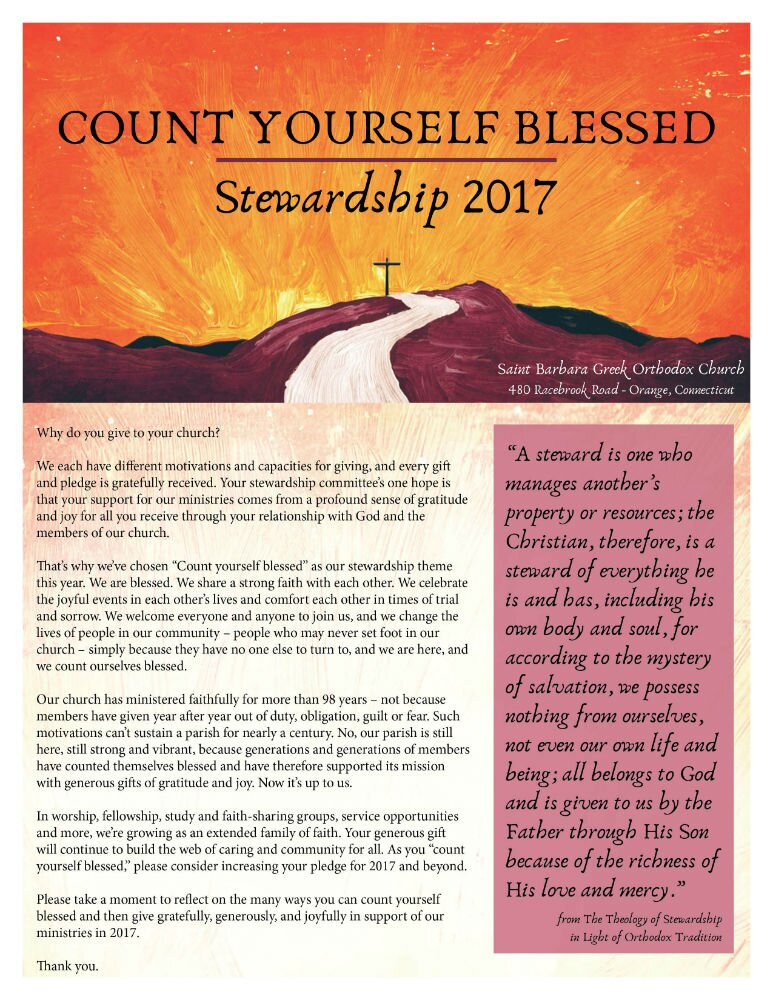 ---
Parish Resource Guide: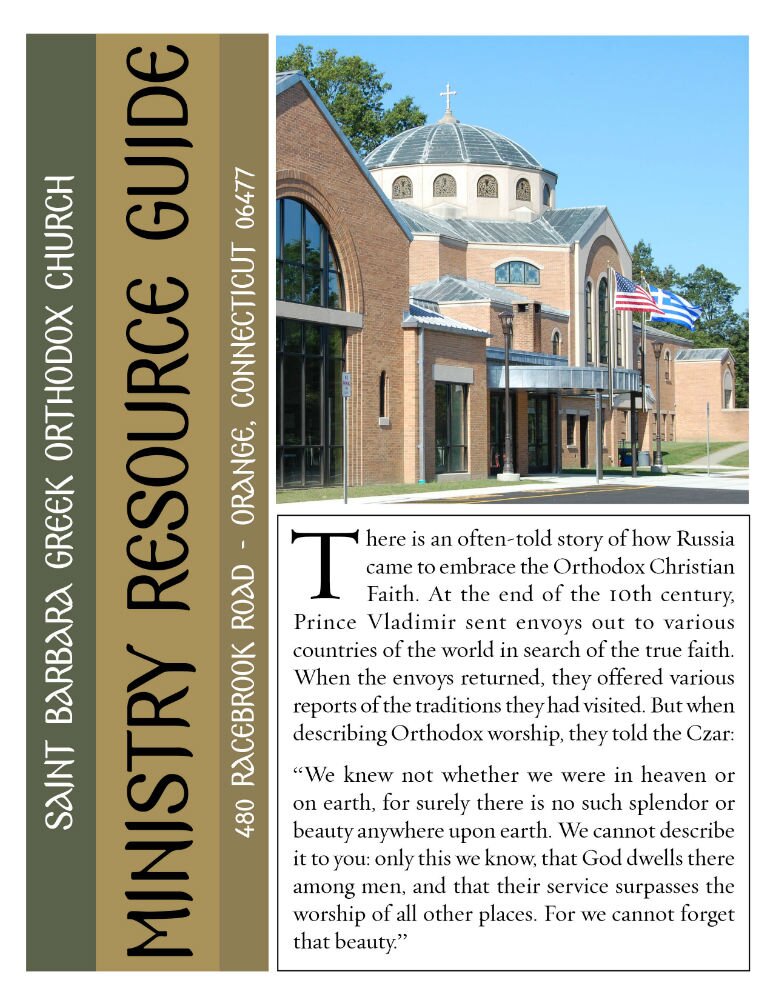 Ministry Resource Guide 2016/17: Part 1
Ministry Resource Guide 2016/17: Part 2
Ministry Resource Guide 2016/17: Part 3
---
Parish Publications: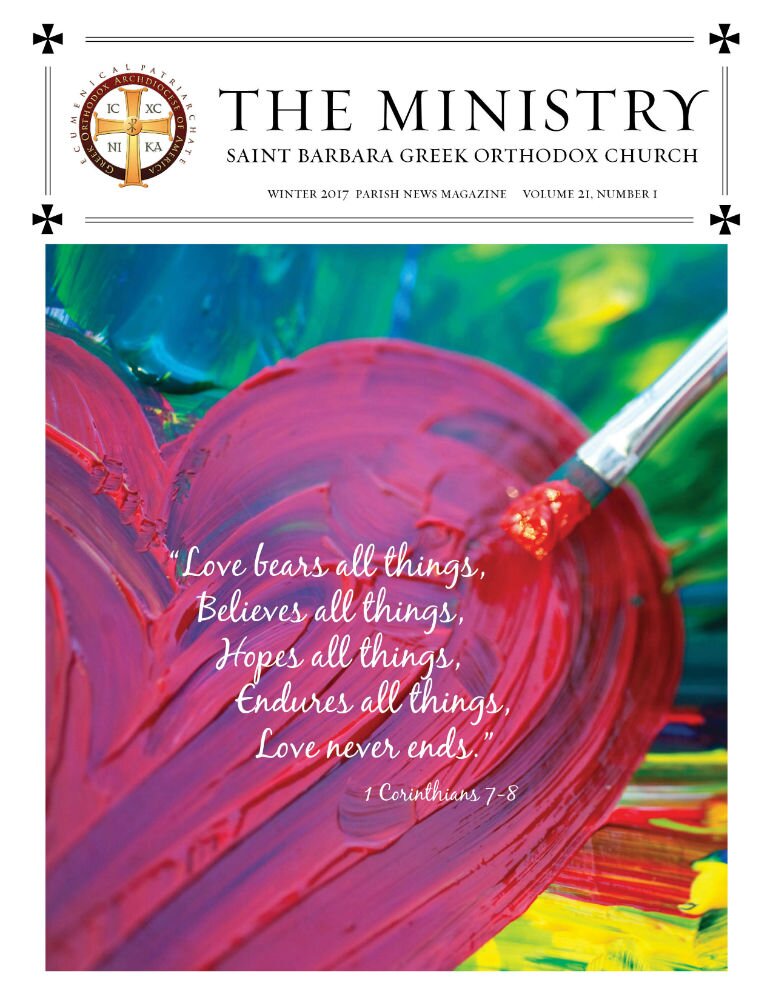 ---

---
Upcoming Events and Services
DAD Oratorical Festival Finals
Kimisis 'Tis Theotokou - Brooklyn, NY
Apr 29
Ἰάσων και Σωσίπατρος ἐκ τῶν 70; Ἁγία Κέρκυρα
Apr 29
Jason and Sosipater the Apostles of the 70 and their Companions
Apr 29
Sunday of the Myrrh-Bearing Women
Apr 30
Κυριακή Γ' τῶν Μυροφόρoν
Apr 30
St. Barbara Scholarship Applications Deadline
Apr 30
See more on our Calendar Page »
---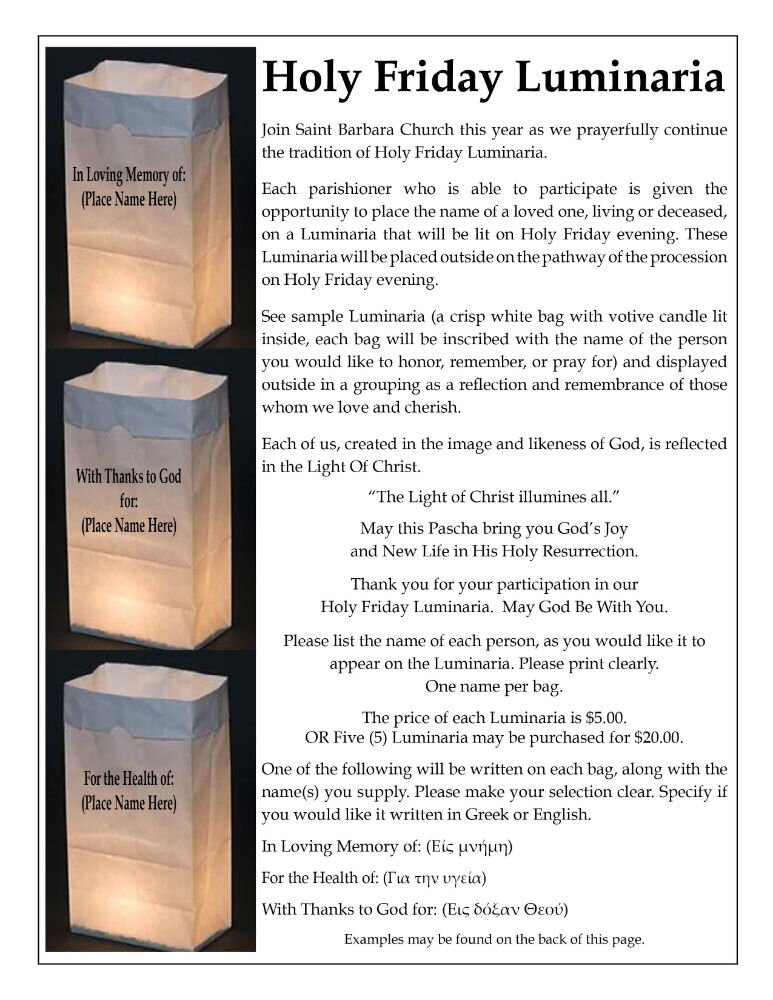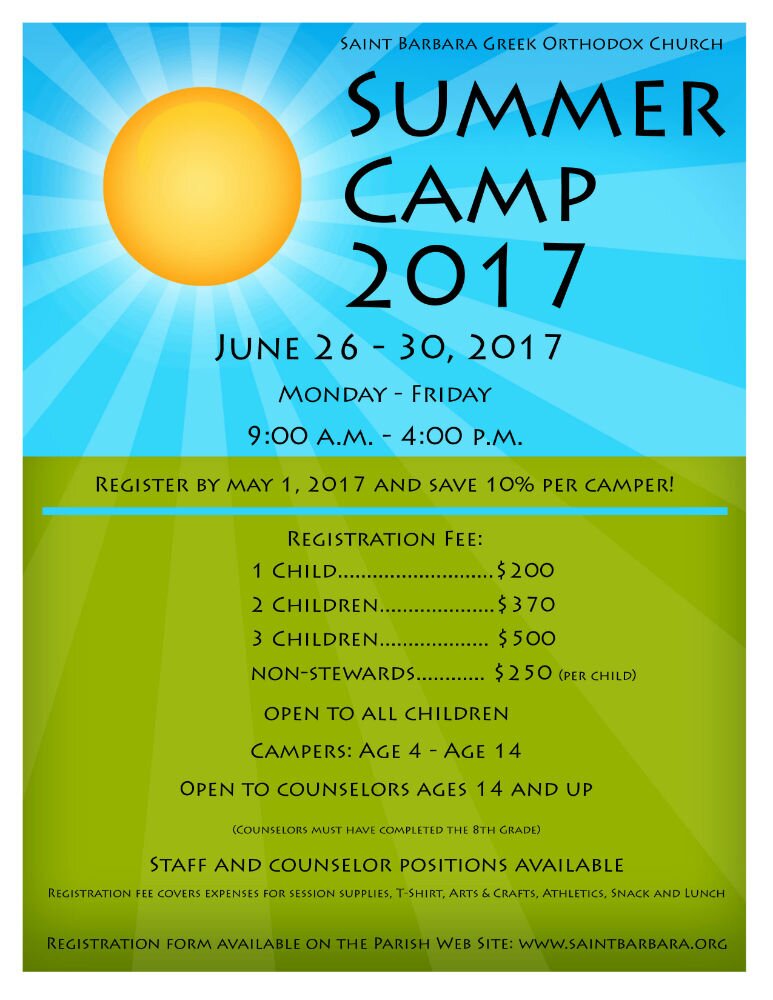 ---
Registration Forms
---
Shop Online
Visit our Online Store for a huge selection of icons, Bibles, books, music, and more.




View our weekly parish bulletin
Visit us on Facebook