Welcome to
St. Barbara Greek Orthodox Church
"Welcome one another, therefore, just as Christ has welcomed you, for the glory of God." - Romans 15:7
Through this web site, we are pleased to be able to introduce you to the same worship and fellowship as it is expressed in the life of our Church. If you are a steward of our parish, or are considering joining our community, these web pages will acquaint you with what our parish offers. We pray that you will enjoy learning more about the Orthodox Church and our parish and welcome you to join us in worship as we continue our Journey of Faith. We hope the information on this site will provide you with daily inspiration to follow the commandments of God as we all strive to seek salvation and live life in the Light of the Resurrection of Christ.
---
The Saint Barbara Ladies Philanthropic Society (Philoptochos) is hosting their annual Holiday Fantasy of Trees on Saturday, November 16 and Sunday, November 17, 2019. The event features many Christmas Trees and wreaths decorated in various themes; numerous vendors; raffle prizes and wonderful Greek food and pastry, prepared on premises, using the finest ingredients to ensure that each item is prepared to perfection.
Join Us! Take a picture with Santa. Peruse the beautifully decorated Grand Ballroom; explore the offerings of various holiday vendors and the Saint Barbara Book and Icon Store; enjoy performances by students of the Suzuki Music School of Orange and various local Dance Studios.
Bring in a non-perishable food item and help us feed our hungry Connecticut neighbors thru the Connecticut Food Bank.
At the close of the event - each Christmas Tree and wreath (as well as other prizes) are raffled off - with the chosen individual - winning the Christmas Tree and its decorations.
Click here to view the 2019 Program
All proceeds of the event support the philanthropic work of Philoptochos.
---

The phiolosophy of the Saint Barbara Sunday School program is based on a Chirstocentric approach, which prepares the students with priciples of the Orthodox Faith, encouraging them to grow in God's service. Our program seeks to build a solid foundation for the children of our community through exemplary lessons in the teaching and worship practices of the Greek Orthodox Faith.
Click on the image to the left to view the Sunday School Handbook. Click here to view the Registration Form.
---
The philosophy of the Saint Barbara Greek Language School Program is based on a desire to offer our parishioners, who have a longing to become versed in the Greek Language, a loving, caring and supportive environment that will nurture the desire to learn and excel in their study of the Greek Language.
Click on the image to the left to view the Greek Language School Handbook. Click here to view the Registration Form.
---
Enjoy a fantastic day of golf at Orange Hills Country Club in Orange, CT. All skill levels are invited, from scratch golfers to recreational players.
Friday, September 13, 2019
Registration: 8 a.m. Shotgun start: 9 a.m.
Click here to view the more information.
---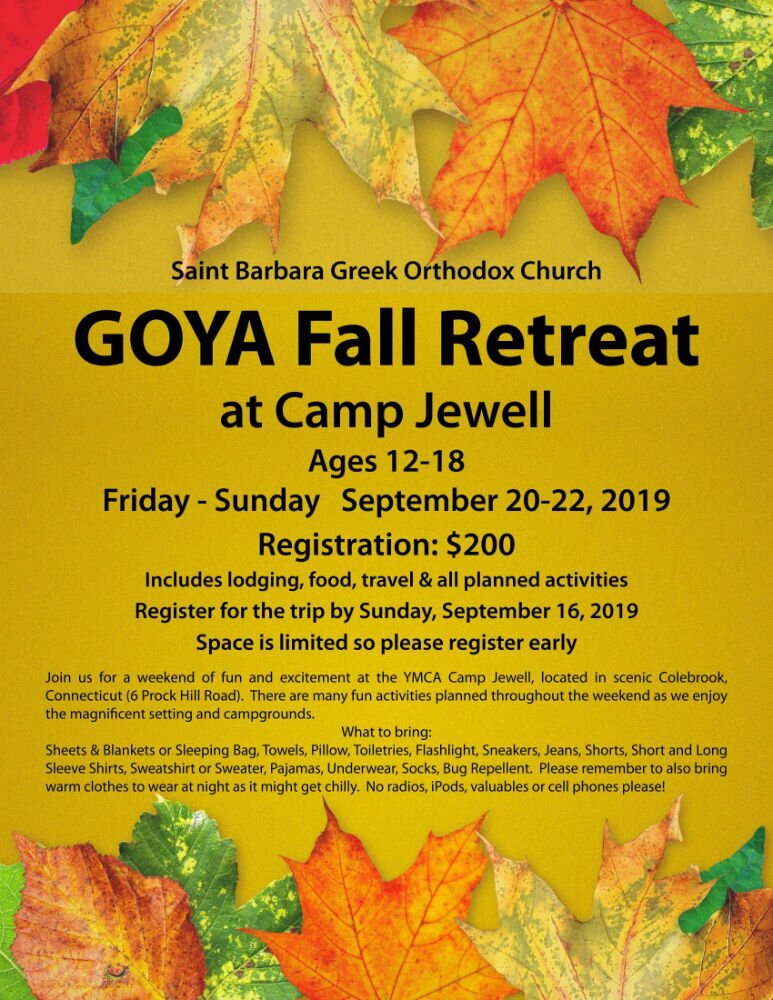 Annual GOYA Fall Retreat at Camp Jewell
Friday, September 20 - Sunday, September 22, 2019
Join us for a weekend of fun and excitement at the YMCA Camp Jewell, located in scenic Colebrook, Connecticut. There are many fun activities and sessions planned throughout the weekend as we enjoy the magnificent setting and campgrounds.
Click here to view the Retreat Flier and Registration Form
---
Join Our Parish List Servers
Get updated on all the news and information about our parish by subscribing to our parish's email listservers here.
---
Online Stewardship
You can now make your 2019 Stewardship pledge online. Simply click here to go to our online pledge form and make your monthly stewardship pledge with your credit card.
---

---
Parish Publications:
---

---
Upcoming Events and Services
Σύλληψις Ἁγίας Ἄννης
Dec 9
The Conception by St. Anna of the Most Holy Theotokos
Dec 9
Saint Barbara Basketball Farm Team Practice
Connecticut Sports Center, 21 S Bradley Rd, Woodbridge, CT 06525, USA
Dec 9 6:30 pm
Saint Barbara Basketball Youth Team Practice
Connecticut Sports Center, 21 S Bradley Rd, Woodbridge, CT 06525, USA
Dec 9 6:30 pm
Parish Council
Dec 9 7 pm
Saint Barbara Venture Crew
Dec 9 7 pm
See more on our Calendar Page »
---
Upcoming Events
Annual Gala
Annual Ad Book
---
Registration Forms
Adult Greek School
---
Donate Car
Donate your Car, Boat, Truck, RV, Jet Ski or Snowmobile.
---
Shop Online
Visit our Online Store for a huge selection of icons, Bibles, books, music, and more.




View our weekly parish bulletin
Visit us on Facebook