---
Liturgical Services Broadcast Live
We are grateful to be able to provide this link to the liturgical life of our Church.
Please click the play button below to begin viewing the live broadcast of our liturgical services. Click on the expand button for full screen.
All services can be viewed live. Please see the Worship Services Schedule for dates and times.
Our parish's live broadcasts continue to reach thousands of individuals and households each week. Please consider making a donation to our parish to help us defray the costs of these live broadcasts.
---
Welcome to
St. Barbara Greek Orthodox Church
"Welcome one another, therefore, just as Christ has welcomed you, for the glory of God." - Romans 15:7
Through this web site, we are pleased to be able to introduce you to the same worship and fellowship as it is expressed in the life of our Church. If you are a steward of our parish, or are considering joining our community, these web pages will acquaint you with what our parish offers. We pray that you will enjoy learning more about the Orthodox Church and our parish and welcome you to join us in worship as we continue our Journey of Faith. We hope the information on this site will provide you with daily inspiration to follow the commandments of God as we all strive to seek salvation and live life in the Light of the Resurrection of Christ.
---

My Dear Brothers and Sisters in Christ,
During this holy and sacred season of Lent, the Great Compline service reminds us of the ever-presence of our loving Lord with the hymn, "God is with us; give ear O you nations, for God is with us!" As you read the following update, please allow that to be the underlying message of hope and strength. We do not face this or any other challenge in our life or the life of our community without that assurance: "God is with us!" To read more click here.
---
The Ministry online Parish Publication is now available. Please click on the above link to read. Thank you for remembering to support your local Church in continuing to proclaim the message of the Good News of salvation in Jesus Christ.
---

The philosophy of the Saint Barbara Sunday School program is based on a Chirstocentric approach, which prepares the students with principles of the Orthodox Faith, encouraging them to grow in God's service. Our program seeks to build a solid foundation for the children of our community through exemplary lessons in the teaching and worship practices of the Greek Orthodox Faith.
Click on the image to the left to view the Sunday School Handbook. Click here to view the Registration Form.
---
The philosophy of the Saint Barbara Greek Language School Program is based on a desire to offer our parishioners, who have a longing to become versed in the Greek Language, a loving, caring and supportive environment that will nurture the desire to learn and excel in their study of the Greek Language.
Click on the image to the left to view the Greek Language School Handbook. Click here to view the Registration Form.
---
Join Our Parish List Servers
Get updated on all the news and information about our parish by subscribing to our parish's email listservers here.
---
Online Stewardship
You can now make your 2019 Stewardship pledge online. Simply click here to go to our online pledge form and make your monthly stewardship pledge with your credit card.
---

---
Parish Publications: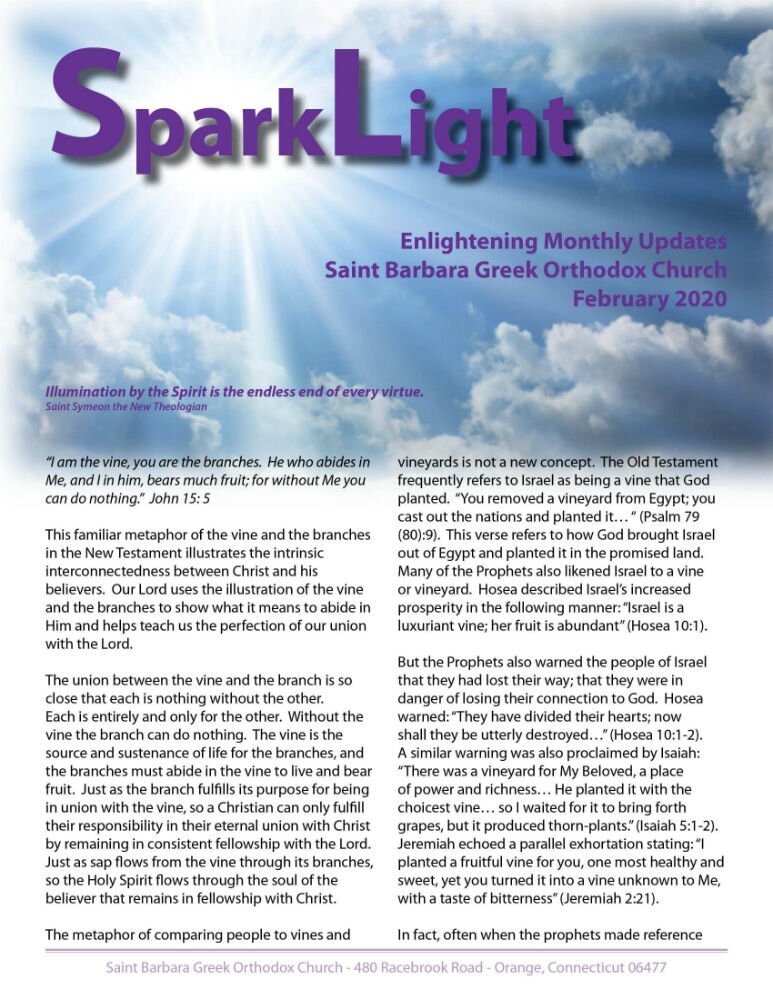 ---

---

---

---
Upcoming Events and Services
Apodosis of Pascha
May 27
Ἀπόδοσις τῆς Εορτῆς τοῦ Πάσχα
May 27
Τῃ Πέμπτῃ της Αναλήψεως
May 28
Divine Liturgy
May 28 10 am
See more on our Calendar Page »
---
Upcoming Events
Annual Gala
Annual Ad Book
JOY Events Flier
---
Registration Forms
Adult Greek School
GOYA Fall Retreat
---
Donate Car
Donate your Car, Boat, Truck, RV, Jet Ski or Snowmobile.
---
Shop Online
Visit our Online Store for a huge selection of icons, Bibles, books, music, and more.




View our weekly parish bulletin
Visit us on Facebook